Description:
PocketWin is a new kind of Pocket PC launcher that is intended to completely replace your Today screen. It features a sleek design and a Windows-like interface. PocketWin is made with Macromedia Flash (
www.macromedia.com
) and requires Flash Player 6 for Pocket PC installed. What makes PocketWin different from other program launchers is it's extreme flexibility. You might compare PocketWin to a set of Lego pieces that you yourself can add up to build that very thing you've always dreamed of. With it's extended plugin capability there are virtually no limits to what can be accomplished with PocketWin. The new update provides a number of new features and interface improvements that will put all other launchers to shame!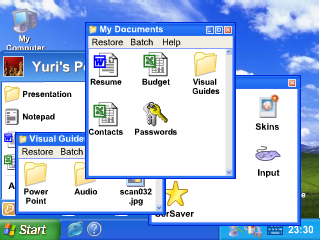 Features:
Full WM2003 compatibility
Multiple folders
On-the-fly skin swapping
Application browser
Improved interface
Tap&Hold menu
Reduced memory consumtion
Faster, better, easier!
Requirements:
Macromedia Flash Player 6
800 kb storage memory
8 mb program memory
Download Here
Includes Macromedia Flash Player 6