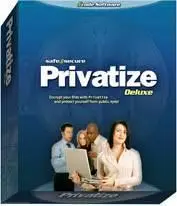 Privatize ver. 1.0.102 | Win32 | Size: 3,97 Mb
Use Privatize Deluxe to password protect your files, folders and passwords using 256-bit AES (Advanced Encryption Standard), one of the strongest encryption algorithms available. Easily and securely:
Password protect files
Password protect folders
Remember passwords you use on the web
Send (and receive) password protected files
Encrypt your files with Privatize and protect yourself from public eyes!
Privatize is the fastest and easiest way to password protect and encrypt files, folders and passwords. It protects your information from others who may have access to your PC or laptop, such as friends, family, coworkers or even hackers. Without your password, Privatized files are unreadable. Privatize uses 256-bit AES encryption, one of the strongest encryption algorithms available. It truly becomes private!
Privatize also allows you to easily email password protected files and folders to anyone. These protected files can be opened with the free P-Mail reader and a password. It's the easiest way to protect your sensitive information.
Don't think you need to password protect your files?
Think again? What would happen if your computer were lost, stolen or hacked? Your desktop computer or laptop can be replaced, but the information contained on them is valuable and more importantly, confidential. This information has become so valuable, hackers and identity thieves are finding ever more clever ways to hack into systems and access it. Safe-n-Secure: Privatize Deluxe protects you and your data by encrypting files/folders/passwords so only YOU can access them.
Who's snooping around your computer?
Have you ever shared your computer with friends, family members or co-workers? If so, consider using Privatize to protect your information from falling into the wrong hands. It's quick and easy to truly protect yourself.
Privatize Deluxe offer ease of use and complete protection.
With 256 bit AES encryption, drag and drop functionality and a simple to use interface; protecting your private and sensitive information couldn't be easier. It's also fast and easy to email sensitive data with P-Mail functionality.