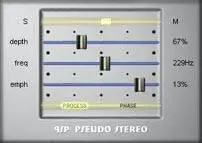 PSP Audioware SteroPack VST 1.8 | Win32 | Size: 3,65 Mb
PSP StereoPack is collection of 4 plug-ins (VST, DirectX and RTAS format for Windows; AudioUnit, VST and RTAS for Mac OSX and VST and MAS for OS 9). The set consists of: PSP PseudoStereo, PSP StereoEnhancer, PSP StereoController, PSP StereoAnalyser. These plug-ins are applied for creating, expanding, improving, controlling and analysing the image and quality of the stereo signal in single tracks or mixes thereof.
The PSP StereoPack can add real dimension to sounds and mixes that seemed fine already, as well as lifting weak material up to unexpectedly high level. Analysis and correction become simple tasks which can help confirm your stereo image or show any problems that your hearing may not pick up.