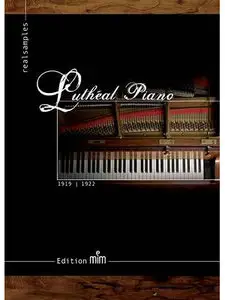 Realsamples Lutheal Piano MULTiFORMAT | 9.98 Gb
The lutheal is probably one of the rarest piano instruments in existence – with only one original instrument being left. Invented by the Belgian George Cloetens, it uses a grand piano as its basis and allows to change the tone of the piano by applying the Lutheal mechanism. Built in 1922, it has been completely restored and resides at the Musical Instrument Museum (MIM) in Brussels.
The instrument was sampled chromatically with every register, providing up to 32 velocity layers to musically reproduce the lutheal. Additionally, samples of the release noises of each key and stop have been recorded and are available with 8 velocity layers per key to contribute to the overall picture of the instrument. Pedal noise samples of each stop (pedal push/release) have been recorded as well.
To start right away, presets are available for all common sample formats including HAlion2, Kontakt2 and higher as well as EXS24. For the critical task of recording the lutheal, realsamples employed custom-made Wagner U47w tube microphones in conjunction with Crane Song Flamingo preamps and Universal Audio 2192 digital converters. For maximum sound quality, we recorded in 192 khz/24 bits resolution, downsampled to 44.1 kHz/24 bits.
RlsmplsLuthPno.part01.rar 4B2F57D8
RlsmplsLuthPno.part02.rar E7DCAA2E
RlsmplsLuthPno.part03.rar E21A21DC
RlsmplsLuthPno.part04.rar 3D2CD18E
RlsmplsLuthPno.part05.rar 63F4AADF
RlsmplsLuthPno.part06.rar 3956D9F2
RlsmplsLuthPno.part07.rar 31C12ABD
RlsmplsLuthPno.part08.rar AFCD0EF7
RlsmplsLuthPno.part09.rar 912CB99F
RlsmplsLuthPno.part10.rar 249BDCF5
RlsmplsLuthPno.part11.rar 97219D58
Download
Realsamples Lutheal Piano MULTiFORMAT