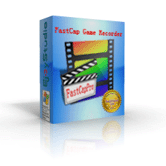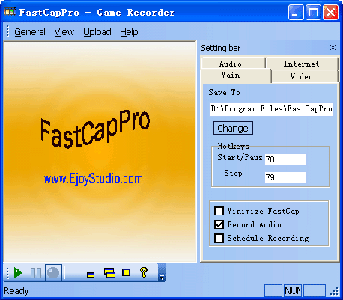 1.6MB|Rar
FastCapPro Game Recorder
FastCapPro Game Recorder to Create Your Own Game Movies for almost all Games! You can also use
FastCap to record your activity on PC screen or create training videos, and distribute them to as many people as you want through the internet.
FastCapPro Game Recorder Features:
Real-time capture DirectX and OpenGL games: record both sound and video
High capture speed
Easy to use: just press your defined hotkeys to start/stop/pause recording
Full screen game capture (e.g. 1024 X 768).
Adjustable frame size: 320 X 240, 512 X 384, 600 X 480, 720 X 576, 800 X 600 and Full Screen (default)
Selective FPS: from 5 to 40 FPS
Show in game FPS during recording
Pause game recording: Real time remove unwanted "junk" video just by pressing a key!
Schedule recording: presetting your capture time
Real-time compress game video: Video compression formats: MPEG-4 Codec, Divx, Microsoft Video 1,
Indeo Video 5.10, Indeo Video 5.10 Compressor, DV Video Encoder or Cinepak Codec by Radius
Real-time compress game audio: Audio compression formats: PCM, MPEG Layer-3, Micro ADPCM,
GSM 6.10, CCITT u-Law or CCITT a-Law
Record your activity on PC screen and other videos (e.g. Google Earth)
Upload movie to FTP: use FastCap to upload your game movies to websites

No Password Fast Rapid Download Link
http://rapidshare.de/files/35752470/FastCapPro_v1.4.7.rar