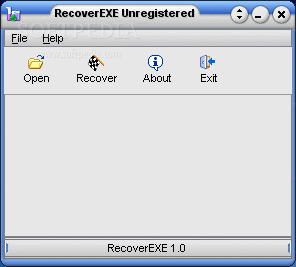 RecoverEXE ver. 2.0
Win32 | Size 1,86 Mb
RecoverEXE is a useful file recovery solution.
If you file corrupted by virus RecoverEXE help you.
Recover only files that show error screen such as:
1. Could not initialize installation. (CRC)
2. Could not initialize installation. File size expected…
3. The installer you are trying to use is corrupted or incomplete.
This could be the result of a damaged disk, a failed download or a virus.
You may want to contact the author of this installer to obtain a new copy.
It may be possible to skip this check using the /NCRC command line switch (NOT RECOMMENDED)
Download
:
http://rapidshare.de/files/35855057/RecoverEXE.rar
No password!
Note: no installation necessary, just run the exe!