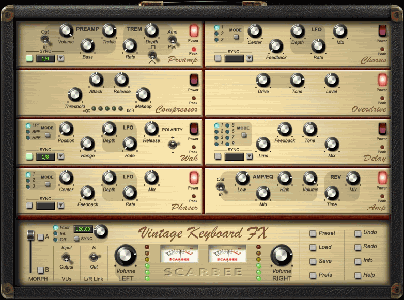 Scarbee Vintage Keyboard FX VST v1.2.3 | Windows XP | 3.4 MB
Home Page
Vintage Keyboard FX VST/AU plugin is a virtual rack packed with outstanding models of a range of different vintage analogue effects processors.
Scarbee is proud to announce the release of our much anticipated Vintage Keyboard FX plugin - a virtual rack packed with outstanding models of a range of different vintage analogue effects processors.
Special Bonus: VKFX box also includes a bonus FX Plugin:
C Filter – a special Filter/EQ to be used with Scarbee F.E.P.
Coded by world class software developers Thomas Serafini, Alfonso De Prisco - and graphic artist Stefan Kengen, the VKFX completes Scarbee's vision for vintage keyboard sample libraries which faithfully capture the sounds of the original masters – right down to the effects processing which was often a key element in defining a classic instrument's unique 'voice'.
Loaded into the VKFX are eight premium quality effects processors, including the essential electric piano preamp with stereo tremolo, a Compressor, Wah (Envelope Filter), Phase Shifter, Chorus Unit, Overdrive, Tape Delay, and a Valve Amp modelled on arguably the most popular device ever used to amplify electric keyboards (and the model includes the four spring reverb).
• Multiple mode switching allows module architecture to alternate from one popular version of a particular effects processor to another which has a completely different sonic character - at the touch of a button.
• Simultaneous editing of all processors is available via a friendly and intuitive interface presented in the form of a rack of independent modules.
• Module order can be rearranged by simply dragging and dropping modules to where they're needed, giving users fast and total control over the effects chain.
• Easy A-B morphing between presets makes experimentation and creation of new sounds addictively effortless.
• Highly CPU efficient coding and module layout means that users can load the VKFX without the fear of watching a system's processor overhead disappear, in the certain knowledge that processing quality is first class.
• All rates and times can be sync'd to VST host, internal clock or left independent for a more 'analog' approach. • All parameters are automatable. All parameters are assigned to midi controllers. • A flexible file management system allows one, several or all modules to be loaded and saved – enabling easy mixing and matching of module presets saved from different sessions.
• A generous licensing arrangement allows the licensed user to install and operate VKFX on up to three PCs simultaneously – greatly easing investment costs for users running multiple CPU systems.
• Mouse sensitive tool tips allow the user to get manual-style information by simply hovering the mouse over any area of interest.
• A comprehensive on-line manual in pdf format is only one mouse click away at all times.
VKFX is the perfect partner for any vintage keyboard instrument, and a tantalising environment in which to enjoy manipulating effects on other sound sources.
SYSTEM REQUIREMENTS:PC - minimum requirements:
• Pentium / Athlon 800 MHz • 256 MB RAM, 20 MB HD space • Windows XP Home and XP Professional • VST2 compatible Host • Display Resolution 1024 x 768 pixels
PC - Recommended:
• Pentium / Athlon 1.4 GHz or faster • Display Resolution 1152 x 864 pixels, dual monitor setup
Download @ RapidShare
Download @ MiHD.net