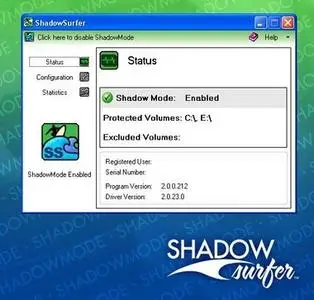 StorageCraft™ ShadowSurfer™ provides secure and easy to use PC protection. ShadowSurfer is the best way to prevent accidental or malicious changes to your PC. ShadowSurfer provides the following advantages:
* Prevent spyware and malware
* Avoid viruses, worms and trojans
* Surf the internet without a trace of unwanted cookies and internet history
* Surf the internet in privacy by eliminating intrusive cyberjunk
* Install and use trialware or games and discard at the end of a session
* Kid-proof your PC by running in ShadowMode
* Instantly undo changes to your PC
ShadowSurfer ShadowMode™ provides a safe computing environment by creating a virtual
twin of your PC. Restore the pre-ShadowMode™ system state no matter what changes have
occurred to your PC.
Shadowsurfer website:
http://www.storagecraft.com/products/ShadowSurfer/