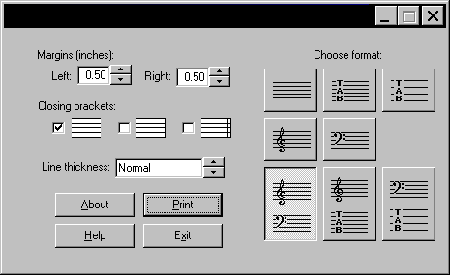 Sheet Music Designer v2.23.32 | Windows All | 695 KB
Home Page:
http://www.pc-shareware.com/smusic.htm
Sheet Music Designer is a software program that prints blank staff sheet music paper.
With this program you can print treble and bass staves, along with guitar tablature. You have the ability to adjust left and right margins, line thickness, and closing brackets.
The ability to print multiple sheets is supported.
Sheet Music Designer can print several varieties of blank manuscript paper for transcribing and composing music with pencil and paper. Choose from three different line thicknesses, single or grand staff style with individual lines or combinations of treble, bass, or guitar "Tab" clefs. You can also specify line closings and the left and right margins of the output. Sheet Music Designer is an intuitive, basic program that can produce quality blank music paper for musicians.
Sheet Music Designer is a handy software tool for composers, musicians and music teachers!
Hardware and software requirements:
Sheet Music Designer will run on any PC using any version of Microsoft Windows.
Note: This software is NOT a music composition program. Sheet Music Designer does NOT allow you to compose music on your computer, or place notes on the blank sheets on your computer. Our software simply prints BLANK staff sheets for use with pencil and ink.
Download @ RapidShare
MD5: cf3da9831566c1ccc8861d7ae231462c
Tested & Works.
Note: Latest version is 2.31, but as it is only a demo, no fix was found and it can't be installed over the top of the already registered version.