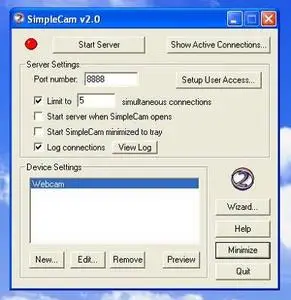 SimpleCam v2.1 | 2,1 MB
SimpleCam v2.1 is an easy to use live video streaming webcam software product. It is designed for people who want to securely stream live video from their computers without paying a fortune or signing up for a service.
Key Features
* Improved LIVE video streaming, not pictures that update every few seconds.
* Faster Video Capture Engine
* Multiple Camera Support
* Uses almost any video input device, from digital cameras to TV cards.
* Secure cams with user account access to live streams.
* Ability to set frame rates per user account.
* Improved platform independent Java applet viewer.
* Minimizes to taskbar icon.
* Dialog-based application with easy to navigate controls.
* Does NOT force you to sign up with a website.
* Comprehensive Wizard autodetects external IP, and will generate HTML.
* Better HTTP server, HTTP/1.1 compliant, still VERY lightweight.
No pass.