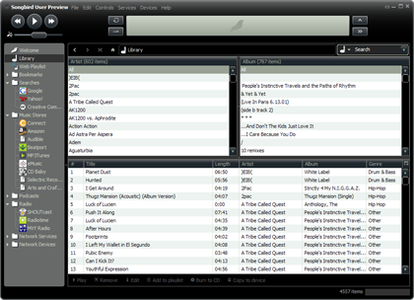 Songbird is a Web player built from Firefox's browser engine. Songbird is open source, will run on Windows, Mac OS X and Linux and supports user contributed, cross-platform extensions
Songbird plays the Web.
Play any MP3 on the Web without leaving the page. Songbird can view Web pages as dynamic playlists that it can play, save, or automatically download every day.
Songbird plays your music too. Songbird has all the features you expect in a desktop media player. And Songbird constantly improves. Like Firefox, Songbird's features may be improved with user installed and contributed cross-platform extensions.
Soon, Web page authors will be able to publish playlists and transfer MP3s into Songbird to build digital music stores like eMusic, music subscription services like Yahoo! Music Unlimited, virtual jamming services like Ninjam, playlist sharing services like WebJay and
Download:
http://download.songbirdnest.com/installer/win32/Songbird_0_1_1b.exe
[size=16]** EXTRA **[/size]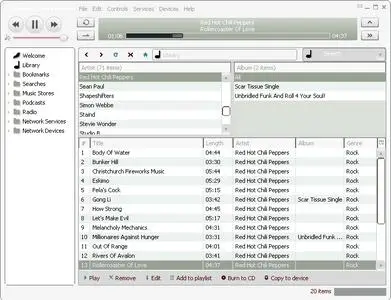 Okay, a few days ago I was bored looking at the red "Alternative" skin. So I looked up where Songbird get's her (yeah, I always call software a female) GUI from. After lookin in the Chrome folder I found "Skin2", I completly redesigned the skin to come closly to the Dove skin the Songbird author's once wrote, But since they didn't want to release it I will
How to install: Goto your Songbird install folder (C:\Program Files\SongBird\) and goto the Chrome folder (C:\Program Files\SongBird\Chrome\) and delete the Skin2 folder (NOT the Skin folder, but Skin2) Now extract the .rar file and copy Skin2 into your Chrome folder. Launch SongBird and select File -> Alternative Skin. Done,
http://rapidshare.de/files/19415242/Songbird_skin_dove_0.1.rar
Download:
Enjoy
-Bio