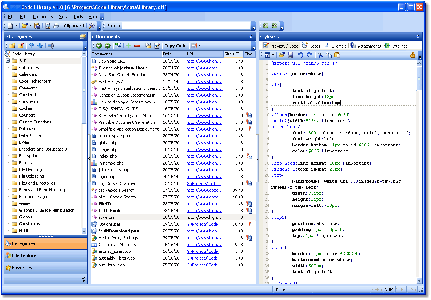 Source Code Library v1.6.0.47 | 10.8 MB
Source Code Library makes it very easy to manage your source code (30+ languages supported), keep your code organized, save your data in a secure encrypted database, paste your favorites code snippets quickly, synchronize rapidly changing data with your libraries, and much more!
Source Code Library offers easy-to-use interface for the novice, and a range of sophisticated tools for the advanced user.
Organize your documents, notes and code snippets - save time, and make your life easier and more productive!
Why do you need Source Code Library?
* Manage your source code and documents efficiently
* Organize your source code & projects in a central, secure and intuitive software.
* More than 30 programming languages supported!
* More than 10,000 lines of open source & free source code included!
* You don't have to start from scratch, plenty of task-oriented code snippets & components covering most programming subjects are available to you for FREE
* Built-in Clipboard Extender, quickly paste your frequently used code snippets, launch your favorite applications and URLs and more!
You can use the clipboard menus to paste collected code back to any windows application, launch your favorite application, folder or website, and more!