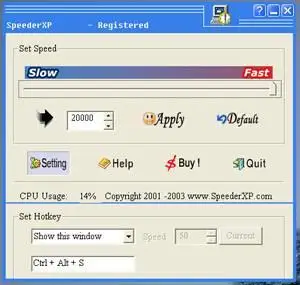 Speeder XP «RELEASE version 1.60»
Brothers Software | 1.11 Mb
It's an amazing PC speed tweaker which can speed up window software and can increase or decrease the speed as you like ! Its software developer –Brothers Software – said it will not harm your computer due to speed tweaking because it does not "over clocking" your computer, but change your software speed. According to Smart Computing magazine Publications Editor ROD SCHER: "This powerful app is so brilliant that computer geeks keep it to themselves of Speeder XP's awesome power and existence; and only a few people knows this application existed. This is simply a powerful PC speed hack tool. You can control your PC speed instantaneously! Change your software speed for Windows 95, Windows 98, Windows Me,Windows NT 4.0,Windows 2000 and Windows XP. One thing i like this app is game speed hack and game accelerator. Run fast in your game and easy win :)
–==oo0oo==–
Speeder XP Features:
Speed up windows system and computer
Game speed hack and game accelerator
Full support Windows95, 97, 98, 98SE, ME, NT4, 2000 ,XP
Track bar speed control
User-friendly interface
Hotkey enabled, 6 custom hot keys can change speed at anytime
–==oo0oo==–
uSER COMMENTS:
rt51 – USA
You know I have many of softwares that suppose to move the computer to a top speed, but Speederxp is the best that I have seen and also makes a difference. Thanks again
sebdj – Germany
Oh my god its SOOOOOOOOOOOOOO COOL when i use it inGame i run 3 times faster than player without SpeederXP since i use it i never lose!
Graham – USA
I found Speeder XP as one of my parents is an archietect using AutoCAD and he told me that ht program increased windows performance by a great deal, especially the loading time of larger drawing.
yahya ali maswadi – New Zealand
I tried the speeder XP and i found that it is realy helpfull when I want to go from site to the other and it opens the web veryfast realy.
George Smith
My friend referred me to you guys and said its the best speed increase he has seen with the exception of the speedhack he had on his old comp but that fried his system after a month.
Abdalhameed M. Alem
It was incredible, it speed up every thing …
Jesse morales
It perfect! I can't believe it before I try it. ..
–==oo0oo==–
Speeder XP
Password (if this is require):
www.AvaxHome.ru
no mirrors pls
–==oo0oo==–