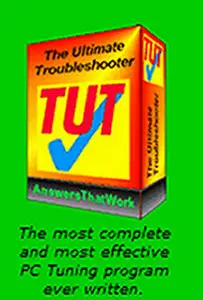 The Ultimate Troubleshooter 4.88 | 25 MB
Tune up your PC like the experts do thanks to TUT's extensive and detailed database of tasks. TUT's database of tasks is a superset of our famous Task List which is featured in the industry leading "Windows XP Management Troubleshooting & Maintenance" course from CNET, and Hewlett-Packard's "Tune up your PC" online course, and which is also referenced by a majority of mainstream newspaper IT columnists worldwide (see Press column –>).Each task is explained in detail, but above all, in plain language understandable by all levels of users. TUT (The Ultimate Troubleshooter) tells you what the task does, and whether you need it or not depending on your own specific requirements.
This helps you streamline your PC so that so that the only tasks running are those that you really need — in turn this results in your PC running faster thanks to having more memory to play with and less unnecessary tasks running in the background. Nothing can speed up a slow PC as well as TUT can.
And, of course, as its name implies, The Ultimate Troubleshooter is first class in helping to fix computer problems and computer errors caused by background programs, the same background programs which cause 65% of all computer problems.
Task Manager Replacement Once you have TUT you will never again want to use the Windows Task Manager. TUT is the ultimate replacement for the clunky Windows Task Manager.
Advanced PC Tune-Up Once you've tuned up your PC with TUT's opening screen, you can move on to the Advanced Tuning screen where you can tune up Windows so that it works exactly as you want it.
Faster Windows Startup Since TUT knows not only about background tasks, but about Windows startups too, it helps most users make Windows start up faster. Our stats show that 90% of users who use TUT achieve a faster Windows boot time than before they used TUT.
Advanced Cleanup and Housekeeping TUT features the industry leading cleanup and housekeeping functions which will help you get rid of thousands of unneeded temporary files which clutter your hard disk. As part of the process it also guides you through the most thorough list of PC Health checks in the industry, as performed by the best IT professionals. TUT is the only product to do so.
Stability TUT does not just help you configure your PC for speed, it also emphasizes stability. The advice TUT gives you is all geared towards stability and speed.
CPU & Memory Utilization Graphs Realtime CPU & Memory Utilization Graphs at global and individual running tasks level enable you to monitor what affects your PC performance.
Hard Disk Health Monitoring Using the inbuilt S.M.A.R.T technology of your hard disk, TUT will monitor its health for signs of slowing down or impending hard disk failure.
System Info TUT includes the most advanced, the most complete, and the most clearly laid out PC inventory screen. You can see what motherboard your PC has, what processor powers it, the amount of memory it has, the full details of your hard disk(s), of your network card, and of your graphics card. It will give you your Windows CD Installation Key if you have lost it. It also lists the full details of all the software that is installed on your PC together with a separate list for Windows Updates (so you can uninstall any Windows Update which turns out to be problematic). Advanced users : TUT also lists all open TCP/IP ports.
TUT complements this industry leading feature with a full range of print and export features : you can print or export your tasks, your services, your startups, and any portion of the System Information to Excel, Text files, or to web pages (HTML).
Peace of mind The Ultimate Troubleshooter also detects spyware and adware, the scourge of so many PCs nowadays. TUT also detects many viruses (you should however also have a good antivirus program in addition to TUT — all PCs should have one).
TUT can be a full strength techie too The Ultimate Troubleshooter caters for both the every day user and the Pros who will love its WHOIS, TraceRoute, Ping, Name Server Lookup and Map your Network utilities (it's the best network mapping tool around), with full printing facilities for future reference.
Download Rapidshare
Visit My Blog For Much More