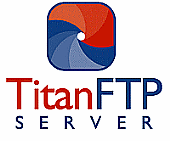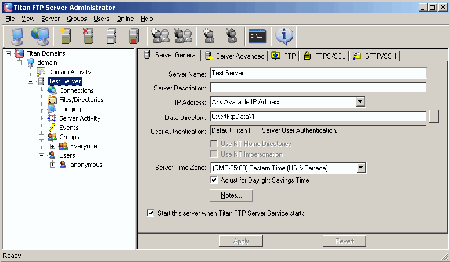 Titan FTP Server v5.27.362 Enterprise Edition | 7.07 Mb
Enterprise class server product for storing and sharing files.
Titan FTP Server is an enterprise class server product for storing and sharing files. Titan provides an advanced feature set, giving you flexibility and control. An intuitive user interface makes Titan FTP Server easy to set up and maintain. For Large Enterprises: Titan offers unlimited user accounts (professional edition) and the controls to appropriately manage them. Bandwidth throttling and configurable maximum transfer speed allows you to customize the bandwidth given to any user or server. You can regulate the number of connections from a given IP, and block users and IP's after a configurable number of invalid commands. The control and scalability that Titan FTP server provides offers an excellent file sharing solution for even the largest enterprises.

Security and Access Control: Titan provides security and access control features such as SSL for secure file transfers, S/Key MD4 and MD5 password encryption, enabling or disabling of anonymous access, and the ability to permit or deny access based on IP address. The server also includes the ability to block FXP and PASV mode transfers. For Home Users: All of the advanced functionality of the Enterprise version is included in a less expensive home version. And with features like configurable upload/download ratios and disk quotas, you can control the way that files are shared on your system. Advanced features include: SSL support for secure file transfers, Virtual Folders, Unlimited user accounts (professional edition), Bandwidth Throttling Support, S/KEY Password Encryption, UL/DL Ratios, Disk Quotas, Banned/Free Files Lists, Anonymous Access Enable/Disable, Custom Messages, Log File Rotation.

What's new:
Added: Internal configuration setting for spawned events that allow for double-quotes to be eliminated from the command arguments.
Fixed: Various Log Manager issues that could cause Titan to hang under certain conditions.
Fixed: Configuration issue that could cause Virtual Folders to be inaccessible or hidden under certain conditions.
Fixed: SFTP event bug that was not firing the EVENT_WRITE_BEFORE event on SFTP Open commands.
Fixed: Bug in the calculation of available free space in the DQTA command.
Fixed: SFTP Banned IP Trigger issue that could crash the server if the Banned IP Address feature was enabled.
Source:
http://www.webdrive.com/products/titanftp/index.html
Download:
http://rapidshare.de/files/35259758/527362.rar
Password:
www.AvaxHome.ru
Worth having:
cFosSpeed
- Speed your internet connection!
Xp VLK
- No more WGA
See my other posts in the "myposts.html" file
albert00