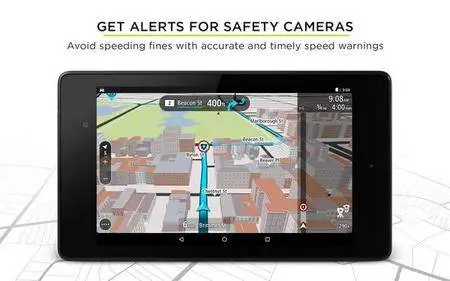 Tomtom Go Navigation and Traffic v1.17.0 Build 2117 [Patched] | 62 MB
The new app TomTom GO Mobile is a brilliant combination of the latest technology of TomTom car navigation and better traffic information. With it you will always get the best available route based on traffic information in real time requires that takes you to your destination faster, each day.
BENEFITS:
- Always know the fastest route: TomTom Traffic gets you there faster
- Get real-time traffic information: See exactly where delays start and end and how to avoid them
- Quick access to your favorites: Immediately start driving to your favorite places
- See buildings and landmarks in stunning 3D: Know exactly where you are so you never miss a turn
- Get alerts for safety cameras: Avoid speeding fines with accurate and timely speed warnings
- Navigation you can rely on: No need for an internet connection to plan your route
FEATURES:
- Lifetime World Maps: Always drive with the latest maps for over 100 countries**
- Offline Maps: Maps are stored on your smartphone. So you don't need an internet connection, or data roaming, to plan a new route or re-route.
- Lifetime TomTom Traffic: Always drive with real-time traffic information for the lifetime of your app*
- Lifetime Safety Cameras: Avoid speeding fines with accurate and timely speed warnings for the lifetime of your app*
- Points of Interest: From gas stations to hotels, your app comes pre-loaded with millions of useful POIs
- Navigate to Contacts: Never memorize an address again. Select a contact from your list and the app will plan your route.
- Quick search: Find your destination faster with intuitive search results. Quick search starts to find your destination as soon as you start typing.
- Tap and go: Tap on your favorite destination on the map, and you're on your way
IMPORTANT!
Check
http://tomtom.com/19212
for availability per country. Services require a cell phone connection. Your operator may charge you for the data used and costs may be significantly higher when used abroad.
WHAT'S NEW:
- Change Audio Channel: Choose which audio channel the app uses for instructions and warnings. You can select the channel in Voices in the Settings menu.
- Android O support: The app is now compatible with Android O.
Home Page -
https://play.google.com/store/apps/details?id=com.tomtom.gplay.navapp&hl=en