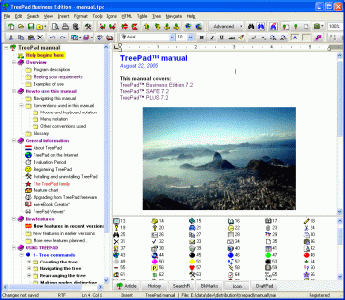 Treepad Business Edition v7.1.2 | 4mb
Introduction
TreePad Business Edition is an advanced yet intuitive PIM/database, Word Processor, Organizer, Presentation tool, Web site generator, and much more, only 1200 Kb in size.
It enables you to store, search, spell-check, encrypt, import/export and password protect all your notes, emails, texts, hyperlinks, etc. into one or multiple databases.
With the look and feel of the familiar Windows Explorer, editing, storing, browsing, searching and retrieving your images and data can not be easier!
Ease of use
To find any article you previously created or imported, you can browse the tree, in the same way as you browse directories/folders in the Windows Explorer. You can also use the powerful, fast internal search engine or the convenient TreePad bookmark system.
Articles and nodes
All data is contained in 'articles'; an article is a text shown in the right-hand pane of the program window. Any article is contained in a 'node' which is the most basic part of the tree (left-hand pane).
More info:
http://www.treepad.com/treepadbiz/
Download link:
http://rapidshare.de/files/25483615/tpb_712.rar.html
Password:
www.AvaxHome.ru
Hi, Avaxoholics!!! This is my first post. I use this proggy for a longer period and I can tell you this is revolutionary product, it will help you keep all kind of information to keep at hand. I just can't live without it. Try to use it and you'll see what a mighty tool this is.