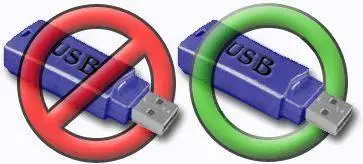 USB Admin Pro 1.1 | 2.09 Mb
It not only restricts the media, but will also record log files locally and centrally
What is USB Admin Pro?

USB Admin Pro is an application that effectively restricts Removable Media. It not only restricts the media, but will also record log files locally and centrally. It will also send out critical email alerts, notifying you of someone trying to use one.

Another advantage is that you can give specific removable drives full access to any computer. For example, if you have a systems support staff, and they have thumb drives with drivers or software on them, you can enable their drives to work in any restricted computer. They won't even have to logoff or enter any passwords to use them on any computer. They would simply insert their disk, and start working. Anyone else trying to use their own disk will be greeted with an alert informing them that their removable media is not allowed, restricting use of their drive instantly.

Will effectively:

Keep out unwanted files, viruses, trojans, illegal software, etc, from entering your network from removable media.
Keep your sensitive information safe by not allowing users to copy any information to their removable media.
Give you the benefit of having any removable media that you specify, to be allowed in any restricted computer. All others will be restricted instantly when inserted.
Source:
http://www.sonarware.com/usbadminpro/index.html
Download:
http://rapidshare.de/files/36139891/11.rar
Password:
www.AvaxHome.ru
Worth having:
cFosSpeed
- Speed your internet connection!
Xp VLK
- No more WGA
See my other posts in the "myposts.html" file
albert00