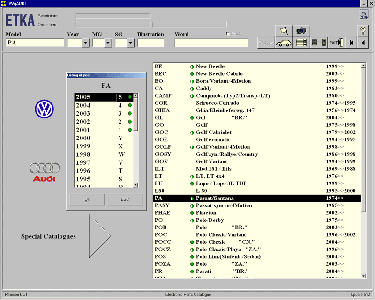 Vag Etka - Electronic spare parts catalogue for Volkswagen and Audi to year 2005
9 RAR files | ISO IMAGE
Etka is spare parts catalog for audi/vw to year 2005.
It has picture for each part, parts category and so on.
Must have soft for vag car owners.
I will try to find price file for this version and upload it as separate post.
p.s I have a lot of similar or better software for other car manufactuers, so post requests here, fiat software on 2 cds goes next.
– RapidShare –
http://rapidshare.de/files/25267451/Vag_Etka_v6.31__Audi_Vw__Full__Final_Crack.part01.rar
48.83 MB
http://rapidshare.de/files/25269919/Vag_Etka_v6.31__Audi_Vw__Full__Final_Crack.part02.rar
48.83 MB
http://rapidshare.de/files/25269957/Vag_Etka_v6.31__Audi_Vw__Full__Final_Crack.part03.rar
48.83 MB
http://rapidshare.de/files/25269962/Vag_Etka_v6.31__Audi_Vw__Full__Final_Crack.part04.rar
48.83 MB
http://rapidshare.de/files/25269974/Vag_Etka_v6.31__Audi_Vw__Full__Final_Crack.part05.rar
48.83 MB
http://rapidshare.de/files/25270004/Vag_Etka_v6.31__Audi_Vw__Full__Final_Crack.part06.rar
48.83 MB
http://rapidshare.de/files/25269999/Vag_Etka_v6.31__Audi_Vw__Full__Final_Crack.part07.rar
48.83 MB
http://rapidshare.de/files/25270010/Vag_Etka_v6.31__Audi_Vw__Full__Final_Crack.part08.rar
48.83 MB
http://rapidshare.de/files/25269547/Vag_Etka_v6.31__Audi_Vw__Full__Final_Crack.part09.rar
42.37 MB
– OxyShare –
File 1/9
File 2/9
File 3/9
File 4/9
File 5/9
File 6/9
File 7/9
File 8/9
File 9/9