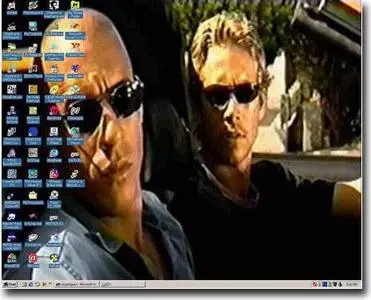 VideoDesktop ver. 3.1.0.3 | 964 Kb | Windows OS
VideoDesktop is a window application that plays the most popular types of video media files (avi/mpg) (MPEG-1), at the background of the primary desktop (like a wallpaper with animation), by using the New Technology of overlaying YUV for faster and more efficient way of video playback. VideoDesktop also work as a Screen Saver. Now VideoDesktop Plays together with the current Wallpaper (ActiveDesktop Mode).
Main Features :
- Resizable and moveable movie window
- Volume and Balance control
- Tray icon with menu for more control
- Screen Saver Mode with time activation
- Next - Previous skip clip
- Custom aspect ratios
- Playlist support
- Resolution changing
- INI files.
- Transparent ToolTips Menus.
- ToolTips to every control - button for more help.
- General ToolTips For Help.
- Playing Mode, Random and Loop.
- 16bit, 24bit and 32bit color resolution enable.
- Center check box for faster position of video screen in the center.
- Transparent Wallpaper, for frames, logos, drawings.