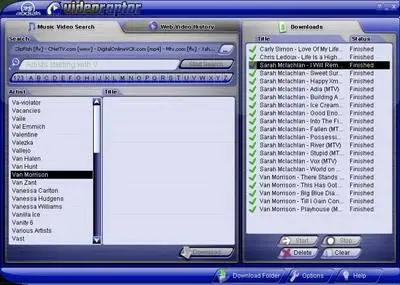 Videoraptor v1.5.45.0 | 10 Mb
Videoraptor - Music Video Entertainment
Imagine: music video clips from the most famous TV music channels and numerous other
video portals on the internet instantly available on any PC or video-enabled device.
Videoraptor's fast-find and automatic downloading functions put never-ending entertainment
at your fingertips — at home and on-the-go. Just point, click, and instantly find. Videoraptor
automatically downloads the videos you view as MP4, WMV or FLV files!
Fulfill your video wishes effortlessly!Videoraptor eliminates the time-consuming hassle of
having to search around and visit multiple video portals to find what you want. Just input
your wishes and push the Search button. Videoraptor searches the Web to find the videos
you're looking for and automatically downloads them after they have been viewed. It effortlessly
delivers video enjoyment directly to your doorstep free of charge, leaving you more time for the
important things in life.
How does Videoraptor work?Videoraptor is a highly intelligent meta-search engine that is able to
search simultaneously through all of the major portals on the Internet and categorize the complete
collection of playable videos into a clear, understandable picture. It's the only tool on the market
of its kind! Finding what you want couldn't be easier or faster! Automatically download the videos
you've viewed on the Internet with Videoraptor. Videoraptor monitors while you're surfing the Web
and it will automatically collect all of the videos you view. Simply select which videos you want
to download later from the webclips tab.
Videoraptor is your personal juke boxVideoraptor can quickly find tens of thousands of music titles
on the Internet. From oldies to the latest top hits, there's something for every taste. Simply select
an artist and music title and click. Videoraptor instantly downloads the desired track along with its
corresponding music video. An alphabetically sorted directory is also available.
http://rapidshare.com/files/39687708/lg175_.rar
PW: things