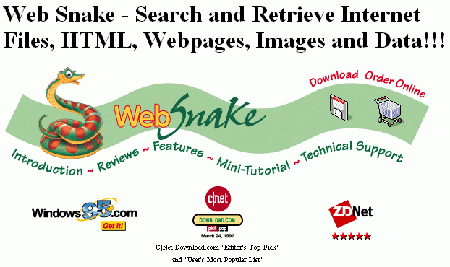 «WebSnake 1.23»
Download Size - 1.86 Mb |
Password:
spiderman
ZDNet 5 Star & C|Net Download.com Editor's Top Pick
and User's Most Popular List
Description:
WebSnake
is the world's most powerful off-line browser designed exclusively for Windows Platform.
In addition to off-line browsing,
WebSnake
is unique in that it uses our proprietary "intelligent pull" technology to search and retrieve files from the World Wide Web. For example, WebSnake supports website mirroring (including directory structure), retrieval of e-mail addresses, site maps and advanced file search. Unlike most of our competitors, WebSnake also supports the industry-standard File Transfer Protocol (FTP).
Best of all,
WebSnake
is easy-to-use! Our friendly WebSnake Wizard will take you through the process of creating and running a WebSnake project from scratch. Just select one of five project types, provide a URL and WebSnake will do the rest!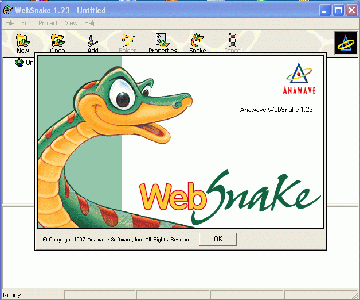 Off-line Browsing Project
– WebSnake's Off-line Browsing Project can copy a remote website to your hard drive for local viewing through a web browser. Off-line browsing makes web surfing faster since most files are directly accessed from your hard drive instead of the Internet.
Mirroring Project
– The Mirroring Project lets webmasters and web designers copy a remote website, including the complete directory structure of the site.
Snake E-mail Addresses Project
– With the incredible E-mail Addresses Project, you can copy e-mail addresses referenced in a website's HTML files. These e-mail addresses can later be exported into a comma or tab delimited file.
Site Map Project
– The powerful Site Map Project can build a map of the HTML files referenced from a starting address/URL. This is useful if you wish to know the structure of a remote website.
Search and Retrieve Project
– The Search and Retrieve Project will search for HTML files that contain defined keywords. Or, you can search and retrieve files by looking for keywords in the filename and/or by file type. WebSnake can also automatically download any files found by the search.
New Features in 1.23:
WebSnake's enhanced features make snaking websites faster and more comprehensive than ever!
Bookmark Import
Snaking your favorite websites is a breeze with WebSnake's bookmark importing. Whether you use Netscape, Internet Explorer, or another browser, you can convert your bookmarks into projects that can be downloaded with just a few clicks of the mouse.
Java Scripts
Given all the cool effects on the Web, you'll come across lots of Java and Visual Basic (VB) scripts. Within these scripts, there may be support files that are required for the script to run properly. WebSnake goes the extra mile to retrieve all the necessary files and link them so that everything will work off-line.
Netiquette
WebSnake's enhanced netiquette features make sure you interact with other users on the Internet in a polite manner while giving you the powerful controls you need to snake websites effectively.
Smart Dispersion – When snaking a website, WebSnake may span multiple servers to retrieve all the necessary files. This process can be slowed considerably if WebSnake encounters a slow server. The Smart Dispersion feature pursues retrieval threads on other better-responding servers, meaning you get the information you want often twice as fast!
Robot Exclusion – Don't waste time trying to snake areas on a website that are restricted. The Robot Exclusion Standard is used by webmasters to limit your accessibility to certain parts of their site. With this feature, WebSnake will quickly spot the off-limit areas and move on.
Multi-thread and Request Control – You'll never overload a slow server or bring a website to a grinding halt again. With WebSnake's flexible multi-thread and interval-between requests control, your snake projects are fast and thorough.
Zip Your Projects
Depending on which site you snake and how deep you go, the downloaded files can take up a fair amount of space. If you're running out of room but don't want to lose your data, WebSnake's handy zip tools let you compress the contents of an entire project to save valuable disk space.


Other Great Features:

Help and Tutorial Files
Our Help files are extensive with over 50 defined keywords. The mini-tutorial covers all five project types with actual examples.
View File Details
The view file details feature will give you useful information such as the file name, size and type. In addition, WebSnake may also (but not always) retrieve additional file information such as date created and last date modified. WebSnake will also display the full path in which the file was originally found.
Snake Status Bar
As you run a WebSnake project, useful information such as server messages, files received and/or searched, and transfer rate will be displayed in real-time.
System Requirements:
486/33 or higher PC
Windows Platform
8MB RAM
5MB available hard disk space
Download Here
Password:
spiderman