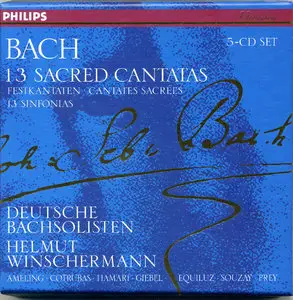 J.S. Bach - 13 Sacred Cantatas - Deutsche Bachsolisten - Helmut Winschermann
XLD: APE & CUE, no log | 5 CDs | TT 5.52'39" | 1,8 GB | Philips 454346-2 1996 | Covers & booklet | Rapidshare
This out of print CD-box contains recordings made between 1968 and 1972 by Helmut Winschermann, oboist and founder of the Deutsche Bachsolisten. He was known as a "singer on the oboe", and a sweet, subtle sound also characterises the playing of the Bachsolisten in these cantatas. Soloist include Elly Ameling, Hermann Prey, Agnes Giebel, Kurt Equiluz, Maurice André and many others.