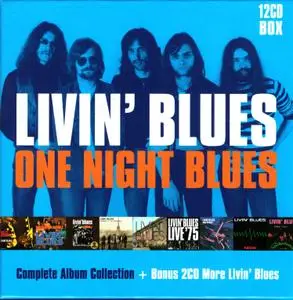 Livin' Blues - One Night Blues [12 CD Album Box Set Limited Edition: 1969-1995] (2016)
MP3 CBR 320 kbps | Run Time: 09:39:40 | 1,36 Gb | Scan Booklet 11,69 Mb
Genre: Rock, Blues | Label: Universal Music
The box contains CDs with the ten albums of the blues group from The Hague, from "Hell's Session" from 1969 to "Out Of The Blue" from 1995. Two bonus CDs complete the collection (see tracklist below). The box appears on July 22.
Around 1970 Livin 'Blues, along with the band Cuby + Blizzards, was counted among the absolute top of the Dutch blues world. The fixed core consisted of Ted Oberg (guitar), John Lagrand (harmonica) and Nicko Christiansen (vocals). The group scored hits such as "Wang dang doodle" and "L.B. Boogie. The band performed throughout Europe, from England to Italy.