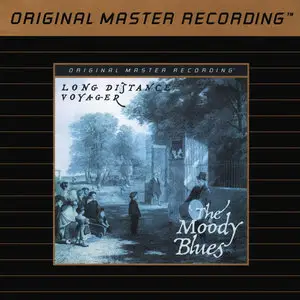 The Moody Blues - Long Distance Voyager
XLD Cue + Log | Full HQ CD Artwork
Progressive Rock | FLAC + CUE + Log | 1981 | FSc + WU + FF | RAR 5% Recovery | 329 MB
Mobile Fidelity Ultradisc II Gold CD | MFSL UDCD 700 (1997)
is one of those Moody Blues albums that gets fans rather polarized. Those who like the heavily symphonic sound of their earlier releases are disappointed by the synthesizer laden character of this 1981 release, suspicious that the band had sold out to gain more popularity. Apparently, it worked, because this was one of the bands most successful releases. Hit singles "The Voice" and "Gemini Dream" remain in radio rotation to this day. I personally find the influence of Patrick Moraz on keyboards to be a welcome presence. A substantial step up from any version of these songs I've heard before, Mobile Fidelity has produced another winner with Long Distance Voyager. Whether you prefer your Moody Blues orchestral or synthesized, you can't help but appreciate a recording that sounds this good.
The previous rip of this title was reported as a fake. This brand new rip is the real deal from my personal CD collection