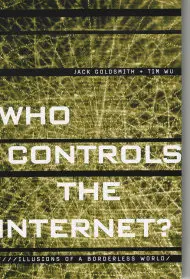 Jack L. Goldsmith, Tim Wu "Who Controls the Internet?: Illusions of a Borderless World"
PDF | ISBN 0195152662, 9780195152661 | Oxford University Press US, 2006 | 226 pages | English | 27MB RAR
Is the Internet erasing national borders? Will the future of the Net be set by Internet engineers, rogue programmers, the United Nations, or powerful countries? Who's really in control of what's happening on the Net?