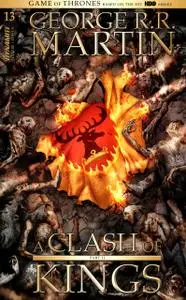 George R.R. Martin's - Choque de Reyes II Tomos 13 (2021)
Dynamite, 2021 | CBR | Spanish | 25 Pags | 24.6 MB
Autores: Landry Q Walker y Mel Rubi
Mientras la batalla por la corona llega a un punto álgido, Sansa hace de anfitriona de Lords and Ladies of Kings 'Landing en el salón de baile Queens. Mientras tanto, las fuerzas de Stannis se unen después de la devastadora quema de Bywater, y solo Tyrion y un pequeño grupo de soldados están dispuestos a enfrentarse a ellos. El sol saldrá pronto, y solo entonces se sabrá quién vivirá y quién morirá en esta dramática adaptación de George R. R. Martin's - A Clash of Kings.