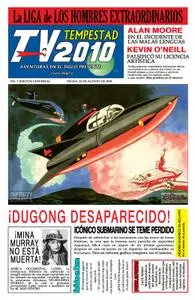 La liga de los hombres extraordinarios: La Tempestad 2
Top Shelf, 2018 | Spanish | CBR | 33 págs. | 45.0 MB
Autores: Alan Moore & Kevin O'Neill
Abriendo con un combate a muerte en 1919 entre dos superhumanos estadounidenses en las ruinas de Utopía, el segundo número del último volumen de la querida serie de cómics de Alan Moore y Kevin O'Neill lleva a sus lectores a un viaje impresionante sobre una cascada de estilos de narración. desde una sorprendente Lincoln Island del siglo XXI y su encarnación actual del legendario Capitán Nemo, pasando por una Nueva York que enfrenta a una población de héroes disfrazados que envejece, hasta un Londres donde el sociópata rejuvenecido que controla el MI5 comienza una escalada drástica. Todo esto, y una nueva aventura reimpresa del súper equipo de la década de 1960 The Seven Stars, aguarda en el número dos de The League of Extraordinary Gentlemen Volume IV: The Tempest.