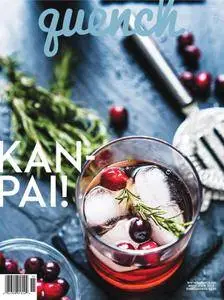 Quench - October 2017
English | 68 pages | True PDF | 9.9 MB
Very few people realize that Soju is one of the best-selling spirits in the world. BY JORDAN ST. JOHN
Pushing China's Baijiu forward. BY TOD STEWART
The concepts of courtesy and hospitality infuse Japanese culture and the way you should serve Sake. BY LISA HOEKSTRA
Only the Japanese would create a word for the "accidental disappearance of finished Sake." BY TOD STEWART
Using Asian flavour for your next cocktail party.
A microbrewery explosion is taking over The East Asian beer scene. BY CRAIG PINHEY
Cool climate Chardonnay is taking the stage. BY MICHAEL PINKUS
Every year, the editors of Quench choose the best assemblages, single varietal and other drinks from around the world.
An island for all foodies out there.BY LISA HOEKSTRA