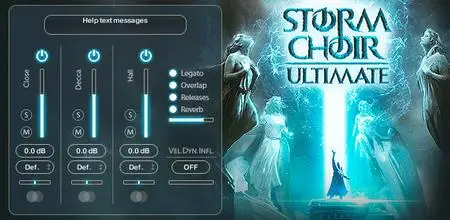 Strezov Sampling Storm Choir Ultimate KONTAKT | 31.9 Gb
Our most popular product ever got even more refined! A 20-piece chamber choir recorded with three microphone positions in Sofia Session Studio (the same hall where we recorded our Afflatus and Next Gen choir series). Completely new recordings ported within the powerful Syllabuilder engine, giving you the highest control possible on syllables, morphing, creating new words and polyphonic true legato.
WHY STORM CHOIR ULTIMATE?
It was inevitable that after the success of our Next Gen choir series (Wotan, Freyja, Arva, Rhodope 2) we had to upgrade Storm Choir (our most popular choir library) to be up to date with the rest of our choral libraries and to have the same features. Therefore we re-recorded everything, but this time with slightly bigger ensembles - 10 singers per section (men/women) for the syllables and 6 singers per section for the legatos. Again, we kept the same idea in mind - singing with exaggerated vibrato, over the top and generally - very loud. We re-recorded all 24 syllables of Storm Choir 2 in three dynamic layers, controllable with mod wheel (CC#1).
THE PERFORMANCE PATCH - EPIC SOUNDING RESULTS WITHIN SECONDS!
Something the original Storm Choir excelled at was accessibility and getting epic sounding choir lines within seconds. For Storm Choir Ultimate we took the original concept and pushed it to new limits with the Performance patch. This patch allows you to perform your choir lines on the fly due to custom edits of the recordings to make them extremely playable, while maintaining their organic and raw tone.
Choose between different mappings of the men and women section to increase the playability even further and fit the outcome to the needs of your track. We built this patch, so it allows you to choose between playing the choir pre-arranged in octaves, divided into separate sections or with the natural overlapping ranges in mind.
Our Velocity Dynamic Influencer allows you to determine the loudness of single chord notes by velocity, which makes highlighting certain notes within a chord easier than ever, while Modwheel CC1 still controls crossfading between the natural dynamic layers. The combination of both greatly enhances the expression you can get out of a regular keyboard performance.