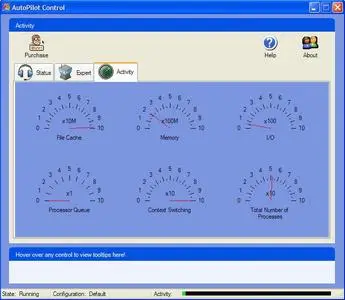 Autopilot XP v4.1.2 RETAIL
AutoPilot is a Breakthrough Automatic WinXP Performance Tuner! It was originally developed to tune multi processor supercomputers, but is now available for WinXP. It is not uncommon to see a busy a machine's performance go up by 40 percent! (AutoPilot does not run on Win95/98 or WinME so do not try to install and run it on these platforms). There are only three categories of software based performance enhancement tools: 1: Disk-related utilities like defraggers (XP has one built-in). 2: Memory-related like caching/RAM disks and 3: Automated tuning tools. AutoPilot® is the first automated tuner for XP. And it is a great solution for busy systems! Tuners are basically 'expert systems' that can make intelligent and instant decisions to improve performance.
"Continuing improvements in performance and reliability are key areas of interest for customers. Autopilot® delivers a solution that strives to improve horsepower and throughput by alleviating bottlenecks." said Bob O'Brien, Lead Product Manager, BackOffice, Microsoft Corp.
AutoPilot is being developed by people that come from a supercomputer background and are trained to squeeze the last cycle out of systems. AutoPilot is an excellent example of a highly sophisticated and advanced neural network that is able to look at the hardware, XP and the applications running. Then AutoPilot improves performance in real-time.
# Increased performance and scalability
# More throughput at a fraction of the cost of any other performance upgrade
# Effortless. 'Install and forget'
# Extends the life of your hardware investment
# Works as well on a single CPU Workstation as on multi processor machines
# Plug and Play - No modifications required - No patches, no changes in hardware or applications either.
# AutoPilot® comes in three flavors, for NT, for W2K and now for WinXP. On all platforms it will squeeze maximum power out of the combination of the hardware, applications and the OS.
# No more time wasted with painful and time consuming baselining and tinkering with parameters.
# With AutoPilot® on your systems you will be SURE that you get the maximum out of that computer.
#
NOTE: AutoPilot for XP runs "ONLY" on Windows XP and requires the latest version of the .NET Framework 1.1