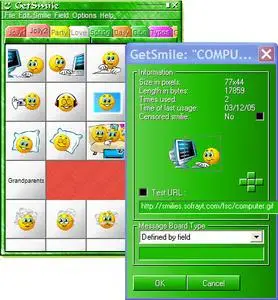 GetSmile 1.9 + Smiley Central + 30 Packs
Program + 30 Packs = 60MB
GetSmile is simply the easiest way to express your emotions and thoughts in the Internet. Whether you are writing an email, participating in forums or chatting on MSN Messenger, GetSmile is going to help you express yourself and bring more fun into your life. Now you can send, capture, organize and share smileys with one easy-to-use and absolutely safe tool.
30 GetSmile Packs :
01. Anima
02. Birds
03. Birds1
04. Classic MSN Emoticons
05. Easter 2
06. Easter 3
07. Fairys
08. Final Fantasy 7
09. Final Fantasy 8
10. Final Fantasy 9
11. Final Fantasy X
12. Final Fantasy X-2
13. Final_Fantasy_7
14. Food & Life
15. For Every Occation
16. For every occation 2
17. For every occation 3
18. Funny collection
19. Great Smilies
20. Halloween
21. halloween 1
22. Luck & Fortune
23. Moonies
24. Nature
25. Nature 1
26. Naughty
27. Slang
28. Smilies
29. Sports And Entertainment
30. Text
My Other posts on AvaxHome :
http://abdli70.googlepages.com/