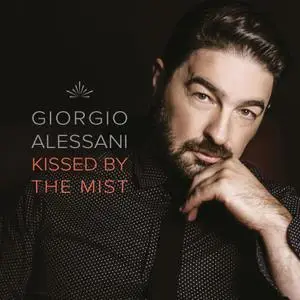 Giorgio Alessani - Kissed by the Mist (2020)
MP3 CBR 320kbps ~ 103.83 Mb | 00:44:49 | Cover
Vocal Jazz | Label: Quart de Lune
Giorgio Alessani was born in Rome. He comes from a family of four brothers gathered around the same passion: music. At the piano since the age of 8, Giorgio has gradually established a path towards a promising artistic career.A youth cradled to the rhythms of jazz, in his very first group with the friends of the conservatory: jazz, always and again jazz … At 22, Giorgio leaves his native Italy and settles in Paris.
He starts solo recording his first models, following a few concerts including the Casino Divonne Les Bains. Giorgio's artistic career would then take on a whole new color when he met Julien Tekeyan, who became his accomplice arranger, then Patrick Gandolfi, revealing talents at the prestigious courses: former producer of William Sheller, Jean-Patrick Capdevielle … and many other stars of the French and European scene. He was surrounded by musicians like Julien Tekeyan, Pierre Bertrand (Paris Jazz Big Band), Herve de Ratuld, Ian Aledji … and many others. New concerts followed in Paris, Baiser Salé, Petit Journal de Montparnasse …In 2011 and 2012 Giorgio was in the studio. This time, he played all the instruments (piano, drums, percussion …). The CD is available on legal platforms, its name is SEMPLICI PAROLE He was accompanied by Toots Thielemans (who played with Quincy Jones, Steve Wonder, Pat Metheny …) Allen Hinds (guitarist among others Gino Vannelli) and Christophe Gauthier on the sax. For the lyrics, he has worked with Sandrine Roy (who wrote for Garou and Bruno Pelletier among others) and always for the sound, he worked with his idol Ingé Christophe "Zebulon" Becquereau (Straight Heads, Savary and other show Jazz 6 (M6).In 2016 Giorgio recorded a new CD called SWEET INNOCENCE, all in English also available on the platforms.
Track List:
01 - Blood in the Water (00:04:15)
02 - Not Much Has Changed (00:04:44)
03 - Eventually (00:04:31)
04 - 50 Shades of Blue (00:03:56)
05 - How Many Ways Are There to Say I'm Sorry (00:05:08)
06 - I Now Regret (00:04:20)
07 - Do I Think About You Every Now and Then (00:04:40)
08 - A Place to Belong (00:03:53)
09 - I Used to Play Around (00:04:24)
10 - Kissed by the Mist (00:04:53)