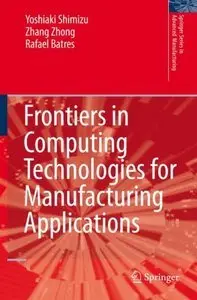 Frontiers in Computing Technologies for Manufacturing Applications
Publisher: Springer | ISBN: 1846289548 | edition 2007 | PDF | 317 pages | 5,88 mb
In today s competitive world, industries are focusing on shorter lead times, improved quality, reduced cost, increased profit, improved productivity and better customer service. As ERP and other information management systems have been widely implemented, information growth poses new challenges to decision makers in areas ranging from shop floor control to supply chain management and design.
Frontiers in Computing Technologies for Manufacturing Applications presents an overview of the state-of-the-art intelligent computing in manufacturing. Modeling, data processing, algorithms and computational analysis of difficult problems found in advanced manufacturing are discussed. It is the first book to bring together combinatorial optimization, information systems and fault diagnosis and monitoring in a consistent manner. Techniques are presented in order to aid decision makers needing to consider multiple, conflicting objectives in their decision processes. In particular, the use of metaheuristic optimization techniques for multi-objective problems is discussed. Readers will learn about computational technologies that can improve the performance of manufacturing systems ranging from manufacturing equipment to supply chains.
($175.00)