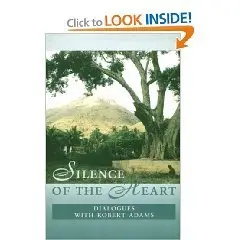 Silence Of The Heart
Publisher: Acropolis Books | ISBN: 1889051535 | edition 1999 | PDF | 200 pages | 13,91 mb
This will resonate with the sincere reader who recognizes the truth within herself/himself. The question posed, "Who am I?" is the key.
Most often, a reviewer presents a "cold analytical autopsy" of a book, gives a content-oriented analysis, or gives an enthusiatic "Hurrah, great/entertaining reading!". While these devices help in preparing oneself to judge whether the contents may be of interest academically or indicate the overall emotional impact upon a reader, I would like to make a more generalized and personal statement regarding this volume. I have been reading/"researching" spirituality for decades and have a fairly broad understanding and appreciation of the various viewpoints/messages/practices/ etc. which are "out there". But, I must say that until I read Robert Adams' work, I had never been able to find a framework which so comprehensively and convincingly explained the personal experiences I was having -if only I had come across this work so much earlier (please, no "cracks" about "when the student is ready…), how infinitely it would have eased my mind and guided me away from "mistakes" due to mis-understanding how my experiences were in fact a coherent part of "the process". I write these words for any who may be searching for something to "make coherent sense" out of a process which they may be going through which doesn't seem to be adequately encompassed by any other third party structures. For me and for "where I am at", this is the most valuable book I have "stumbled across"(?)in a long time. It has helped not merely to understand an "intellectual idea" but to understand my personal experience - I am sure there are others at a similar point who would benefit greatly from reading his words and sharing his understanding.




>>:: NO PASSWORD ::<<





Uploading





Bitroad





Depositfiles





Qube





Megaupload





>>::..::!!!NO MIRRORS, READ THE RULES!!!::..::<<



Not all books on AvaxHome appear on the homepage. In order not to miss many of them follow



ebooks section

(see top of each page on AH)

and visit

-<My Blog>-

too :-)



WARNING!!! IN COMMENTS ANY RAPIDSHARE*******.TK SITE WILL STEAL YOUR PASSWORD AND ACCOUNT DO NOT CLICK!!!