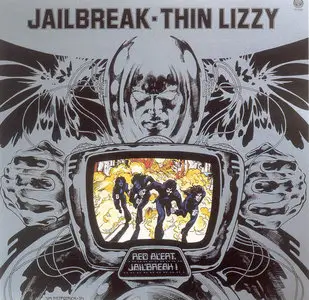 Thin Lizzy - Jailbreak (1976) [1990 US Vertigo CD Pressing]
EAC AccurateRip | FLAC + Log + Cue | Scans | 224 MB | HF + RS | 5% recovery
Label: Vertigo 822 785-2 | Genre: Rock
Thin Lizzy found their trademark twin-guitar sound on 1975's Fighting, but it was on its 1976 successor, Jailbreak, where the band truly took flight. Lynott no longer let Gorham and Robertson contribute individual songs — they co-wrote, but had no individual credits — which helps tighten up the album, giving it a cohesive personality, namely Lynott's rough rebel with a heart of a poet. Lynott loves turning the commonplace into legend — or bringing myth into the modern world, as he does on "Cowboy Song" or, to a lesser extent, "Romeo and the Lonely Girl" — and this myth-making is married to an exceptional eye for details; when the boys are back in town, they don't just come back to a local bar, they're down at Dino's, picking up girls and driving the old men crazy. Thin Lizzy is tough as rhino skin and as brutal as bandits, but it's leavened by Lynott's light touch as a singer, which is almost seductive in its croon.