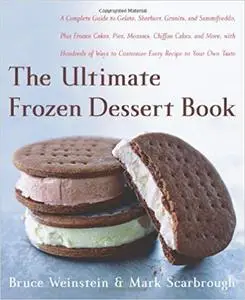 The Ultimate Frozen Dessert Book: A Complete Guide to Gelato, Sherbert, Granita, and Semmifreddo, Plus Frozen Cakes, Pies, Mousses, Chiffon Cakes, and … of Ways to Customize Every Recipe to Your by Bruce Weinstein and Mark Scarbrough
English | 2005 | ISBN: 0060597070 | 256 pages | EPUB | 0,6 MB
Gelato may be Italian for ice cream, but The Ultimate Frozen Dessert Book is American for the sequel to the best-selling Ultimate Ice Cream Book. In the ninth installment of the wildly popular Ultimate series, powerhouse cookbook authors Bruce Weinstein and Mark Scarbrough churn out more than 500 recipes and variations for all kinds of frosty treats, including a wide range of gelato, granita, sherbet, and semifreddo. And there's a whole chapter on cakes, pies, and other treats made with ice cream or gelato, whether home-made or store-bought! Bruce and Mark prove that when it comes to frozen desserts, ice cream is only the tip of the iceberg! Together, these two books make the ultimate compendium on frozen treats.