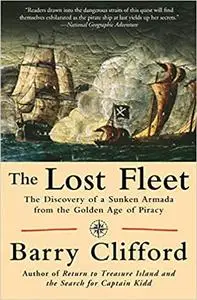 Barry Clifford, Kenneth Kinkor, "The Lost Fleet: The Discovery of a Sunken Armada from the Golden Age of Piracy"
English | 2003 | ISBN: 0060957794, 0060198184 | 304 pages | EPUB | 0.43 MB
On January 2, 1678, a fleet of French ships sank off the Venezuelan coast. This proved disastrous for French naval power in the region, and sparked the rise of a golden age of piracy.
Tracing the lives of fabled pirates like the Chevalier de Grammont, Nikolaas Van Hoorn, Thomas Paine, and Jean Comte d'Estrées, The Lost Fleet portrays a dark age, when the outcasts of European society formed a democracy of buccaneers, settling on a string of islands off the African coast. From there, the pirates haunted the world's oceans, wreaking havoc on the settlements along the Spanish mainland and – often enlisted by French and English governments – sacking ships, ports, and coastal towns.
More than three hundred years later, writer, explorer, and deep-sea diver Barry Clifford follows the pirates' destructive wake back to Venezuela. With the help of a lost map, drawn by the captain of the lost French fleet, Clifford locates the site of the disaster and wreckage of the once-mighty armada.