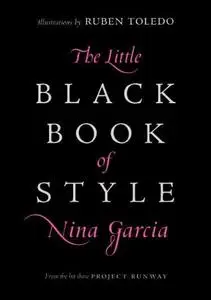 The Little Black Book of Style by Nina Garcia
English | September 4, 2007 | ISBN: 0061234907, 0061237213 | True PDF | 160 pages | 5.4 MB
From Nina Garcia—fashion judge on Bravo's hit Project Runway and author of Style Strategy and The One Hundred—comes her wildly popular New York Times bestseller The Little Black Book of Style. Here, in one indispensible volume, are Nina's ultimate rules of style to help you uncover your own signature look.
Every time you dress, you assert your identity. With style, you tell the world your story. In that way, style affords you opportunities to think about your appearance as a quality of your creative character. The Little Black Book of Style helps you to explore your own fashion voice—the piece of you that joyously revels in the glamorous experience of creating your best self. From cultivating good taste to guarding against definite fashion faux pas, Nina Garcia offers readers the ultimate guide to follow when it comes to dressing their best. Including tips on how and when to wear an outfit, occasion-appropriate wear, advice on how to combine colors and textures, and inspiration on how to achieve your own signature look, you learn how to experiment, storyboard, archive, and play. Timeless and universal, this book seeks to remind women that eternal style is internal style, and that everyone has what it takes to discover themselves through the colorful palette that is fashion.