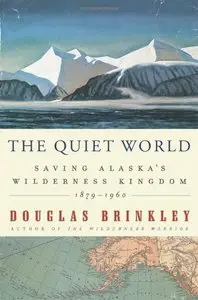 The Quiet World: Saving Alaska's Wilderness Kingdom, 1879-1960 By Douglas Brinkley
Publisher: Har,.,per 2011 | 592 Pages | ISBN: 0062005960 | EPUB | 57 MB
When legendary naturalist John Muir began exploring Glacier Bay in 1879, he was unprepared for the sheer poetic depth of the Alaskan wilderness. Twenty years later, Muir joined the Harriman Expedition, which found Alaska to be a unique, untrammeled, sui generis wilderness in need of preservation. Indeed, as soon as the U.S. acquired this magnificent and bountiful land, the war began between those who would recklessly exploit Alaska's natural wealth for profit and those who believed that this was a sacred place to be cherished and protected. Brinkley's scrupulous, dramatic chronicle of the complex struggle to protect Alaska's glorious wilderness and wildlife in the years before it became a state is the second book in what he describes as his lifework, a multivolume history of conservation in America that began with his unique portrait of Theodore Roosevelt, The Wilderness Warrior (2009). Here Roosevelt is one of many colorful visionaries Brinkley vividly portrays, from explorers and scientists (Charles Sheldon, William T. Hornaday) to artists and writers (Rockwell Kent, Walt Disney, Jack Kerouac, Gary Snyder) to heroes Olaus and Mardy Murie, who campaigned tirelessly for the Arctic National Wildlife Refuge, and Supreme Court Justice William O. Douglas. Essential to understanding today's environmental challenges, Brinkley's Alaskan history and pantheon of valiant conservationists is boldly original, enlightening, enthralling, and profoundly moving. HIGH-DEMAND BACKSTORY: Brinkley is an award-winning, highly visible (frequent TV appearances) public historian, and a robust, multifront publicity campaign is planned for this major work.
!!!No Mirrors below, please! Follow Rules!