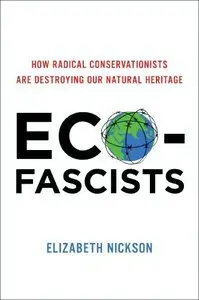 Eco-Fascists: How Radical Conservationists Are Destroying Our Natural Heritage by Elizabeth Nickson
2012 | ISBN: 0062080032 | English | 384 Pages | EPUB + MOBI | 0.35 MB + 1.05 MB
Forty million Americans have been driven from their lands and rural culture is being systematically crushed, even as wildlife, forests, and rangelands are dying. Journalist Elizabeth Nickson's investigations into these events have revealed a shocking truth: rather than safeguarding our environment, radical conservationists are actually destroying our natural heritage. In Eco-Fascists, Nickson documents the destructive impact of the environmental movement in North America and beyond, detailing the extreme damage environmental radicals in local and national government agencies are doing to the land, the ecosystems, and the people. Readers of Alston Chase's Playing God in Yellowstone and In a Dark Wood, and anyone who is deeply concerned about global warming and the environment must read Elizabeth Nickson's Eco-Fascists.