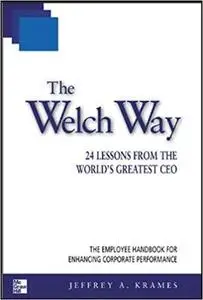 Jeffrey A. Krames, "The Welch Way : 24 Lessons from the World's Greatest CEO"
English | 2001 | ISBN: 0071387501 | PDF | pages: 65 | 0.5 mb
Unlock the Welch in You
The Welch Way is the first book written specifically to help employees infuse their careers with the actions and success strategies of business icon Jack Welch. This accessible, fast-paced book draws on Welch's career to explain how workers can follow the proven Welch model to:
- Face reality
- Use change as a competitive weapon
- Defy tradition
- Fight fear
- Overcome bureaucracy
- Pounce on every opportunity
- Set stretch goals
- Move beyond boundaries
- Spark others to perform
- Get good ideas from everywhere
- Have fun
Jack Welch transformed GE into the world's most valuable corporation­­and became one of history's most admired and successful CEOs­­by cutting through bureaucratic noise and letting hands-on, frontline employees tell him what needed to be done. The Welch Way shows you how to work the Welch magic in your career and reach new heights in today's wide-open, idea-driven workplace.