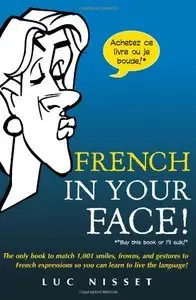 Luc Nisset, "French In Your Face!: 1,001 Smiles, Frowns, Laughs, and Gestures to get your point across in French"
English | 2007 | 128 Pages | ISBN: 0071432981 | PDF | 11 MB
Using the stories that our faces, appearance, and gestures tell, French in Your Face helps you learn and remember essential French vocabulary and everyday expressions relating to personality, attitudes, moods, and emotions.
This hugely entertaining book is packed with illustrations that will tickle your funny bone and fine-tune your ability to communicate, face-to-face, in French.