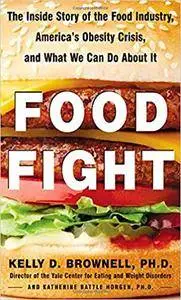 Kelly Brownell, Katherine Battle Horgen, "Food Fight: The Inside Story of The Food Industry, America's Obesity Crisis, and What We Can Do About It"
2004 | pages: 370 | ISBN: 0071438726 | PDF | 2,0 mb
"The evergreen subject of American gluttony and sloth brings out the best in scientist-advocates, and the authors, while drawing on a mountain of statistics and studies, make their indictment both funny and appalling."
–Publishers Weekly
"Brownell and Horgen uncover some of America's biggest diet hazards and how to avoid them."
–Self magazine
"This is a fascinating, empowering must-read filled with practical ways to take action."
–Shape magazine
"Food Fight is . . . an important contribution to the discourse around the obesity epidemic. I highly recommend it to anyone who wishes to learn more about the role of the food industry, and especially to public health advocates looking for clearly presented research and ideas for positive change."
–Michele Simon, founder and director of the Center for Informed Food Choices
My Link