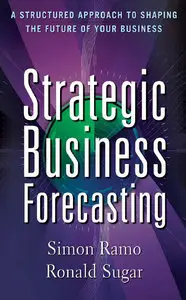 Strategic Business Forecasting: A Structured Approach to Shaping the Future of Your Business by Simon Ramo, Ronald Sugar
English | 2009 | ISBN: 0071621261 | 228 pages | PDF | 0,7 MB
What's Your Next Big Move?
At the turn of the century, Western Union passed on the chance to dominate the telephone industry. Later, General Electric concluded that a new invention called television was doomed to fail.
And very recently, decision makers at the highest level were taken off-guard when the global economy dropped from under their feet–and took their companies with it.
Today, only those business leaders with the power of long-term foresight will seize and hold true competitive advantage. But can managers really predict the future? Yes, to a greater extent than one might expect. Strategic Business Forecasting shows how to identify and quantify possible events that may affect your business. Applying creativity, personal experience, and the lessons of history, you can use such forecasting to develop plans that will help your organization compete.
Drs. Simon Ramo and Ronald Sugar, two giants of the aerospace industry, share their Four-Measures Rating system to help you explore the world of possibilities–thoroughly and systematically. Under their tutelage, you will be equipped to:
Create a comprehensive list of possible scenarios concerning your business
Utilize a scoring system to rate each scenario's merit as a serious and useful prediction
Develop an effective plan that strategically shapes the future of your organization
The authors provide vivid illustrations of the Four-Measures system at work with real-world examples of both forecasting failures and successes.
No one can predict perfectly, and the authors don't promise magic. With the approach described in Strategic Business Forecasting, however, you can ensure your organization is better poised to seize future opportunities, avoid pitfalls, and handle anything the increasingly volatile global economy throws your way.