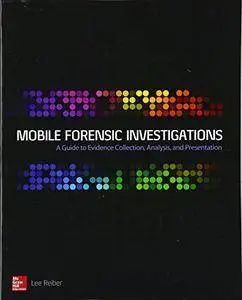 Mobile Forensic Investigations: A Guide to Evidence Collection, Analysis, and Presentation (Networking & Comm - OMG) by Lee Reiber
English | 16 Dec. 2015 | ISBN: 0071843639 | 480 Pages | EPUB | 22.43 MB
This in-depth guide reveals the art of mobile forensics investigation with comprehensive coverage of the entire mobile forensics investigation lifecycle, from evidence collection through advanced data analysis to reporting and presenting findings.
Mobile Forensics Investigation: A Guide to Evidence Collection, Analysis, and Presentation leads examiners through the mobile forensics investigation process, from isolation and seizure of devices, to evidence extraction and analysis, and finally through the process of documenting and presenting findings. This book is not just for those starting out in mobile forensics, but contains information for the seasoned examiner. This book not only gives you knowledge of available mobile forensics tools, but describes and documents how these tools work to collect and analyze mobile device data. The valuable information will allow you to better collect analyze and present your findings and processes in a court of law or discovery forum. This holistic approach to mobile forensics, featuring the technical alongside the legal aspects of the investigation process, sets this book apart from the competition. This timely guide is a much-needed resource in today's mobile computing landscape.
Provides you with a holistic understanding of mobile forensics from the basics to advanced analysis
Notes offer personal insights from the author's years in law enforcement
Tips highlight useful mobile forensics software applications, including open source applications that anyone can use free of charge
Case studies document actual mobile forensic cases
Photographs demonstrate proper legal protocols, including seizure and storage of devices, and screenshots showcase mobile forensics software at work
Advanced techniques feature SQLite parsers and Python scripts