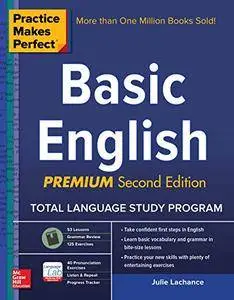 Practice Makes Perfect Basic English, Premium Second Edition by Julie Lachance
English | July 21, 2015 | ISBN: 0071849629 | EPUB | 288 pages | 16.6 MB
Bite-size lessons. Big-time learning!
Practice Makes Perfect Premium: Basic English is a bestselling workbook that provides learners of English with invaluable tools to ensure mastery of essential concepts. Three-page units cover each subject, which can be completed in a mere 10 to 15 minutes! Each lesson covers a single grammar concept, supported by many clear examples. Extensive exercises keep you focused and interested while you gain confidence in your new language.
This second edition includes:
New chapters on the future perfect tense
Additional exercises for a thorough review of verb tenses
New word search puzzles and scramble sentence exercises
Streaming audio recordings of 40 pronunciation exercises via app and online