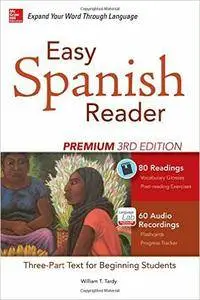 William T. Tardy, "Easy Spanish Reader Premium, Third Edition: A Three-Part Reader for Beginning Students"
2015 | ISBN-10: 0071850198 | 224 pages | EPUB | 4 MB
Enhance your Spanish reading skills with this primer for premium results!
Easy Spanish Reader is based on the premise that the best way to learn a language is to start reading it, immediately. Suitable for raw beginners to intermediate-level language learners, this bestselling title features engaging readings of progressive difficulty that allow you to rapidly build comprehension. Part I describes the adventures of two high-school seniors involved in their Spanish club; Part II describes episodes from the colorful history of Mexico; and Part III contains an abridged adaptation of the classic story Lazarillo de Tormes.
New to the Premium Third Edition are accompanying materials in the McGraw-Hill Education Language Lab app:
Flashcards of all glosses in the book
Audio recordings of select readings from the book (all of Parts I and III, and the first section of Part II)
Audio recordings of select post-reading exercises in Part I; if your mobile device has the capability, you can record your own answer and compare it against the native-speaker pronunciation