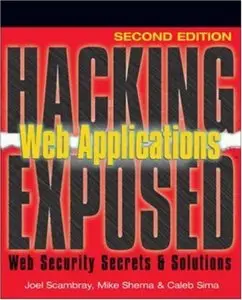 Hacking Exposed Web Applications, 2nd Ed.
520 pages | McGraw-Hill Osborne Media; 2 edition (June 5, 2006) | 0072262990 | CHM | 12 Mb
Implement bulletproof e-business security the proven Hacking Exposed way
Defend against the latest Web-based attacks by looking at your Web applications through the eyes of a malicious intruder. Fully revised and updated to cover the latest Web exploitation techniques, Hacking Exposed Web Applications, Second Edition shows you, step-by-step, how cyber-criminals target vulnerable sites, gain access, steal critical data, and execute devastating attacks. All of the cutting-edge threats and vulnerabilities are covered in full detail alongside real-world examples, case studies, and battle-tested countermeasures from the authors; experiences as gray hat security professionals.