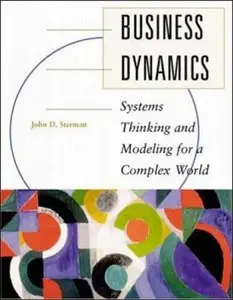 Business Dynamics Systems Thinking and Modeling for a Complex World by John D Sterman
English | 2000 | 982 Pages | ISBN: 0072311355 | PDF | 25,9 MB
Complex systems are not intuitive. Sometimes they are even counter-intuitive. Dynamic system modeling can help our understanding of this challenging class (including the economy, government policies and human behavior, business management). This readable book makes a complex subject and a specific tool understandable (with a lot of work…).
This book is really impressive. Is an eye opener. Must read for Industrial Engineering Students, must have for professors and great addition for a professional looking for new ideas.